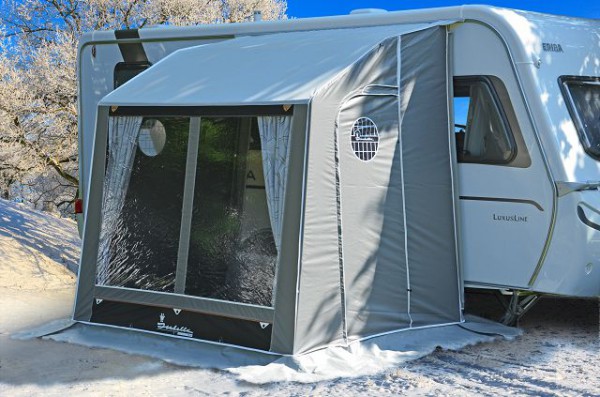 ERIBA
Simply send your noted products with the wishlist function to yourself, friends or your HYMER trading partner!

HYMER original accessories are not available ex factory, they are only available directly from your HYMER licensed dealer. Images shown may be subject to modifications.
Suitable for vehicles manufactured by ERIBA
Model range / model Nova, Nova GL, Nova Luxus Line, Nova S, Nova SL
Model years 2005, 2006, 2007, 2008, 2009, 2010, 2011, 2012, 2013, 2014, 2015, 2016, 2017, 2018, 2019
Nova winter awning
ERIBA winter awning: the sturdy roof construction with its special pitch allows water and snow to slide off more easily. The extra wide foam rubber pads, together with the bent support poles and special connection profiles, form a good connection to the caravan. Because of the screwless FixOn fittings, no additional eyelets on the caravan are required. The polyester material, PVC coated on both sides, makes the awning easy to clean. Curtains including round wheel arch covers are also supplied. The Eriba Nova winter awning has an optimum size of 220 cm x 180 cm. In addition, storm tensioning triangles are integrated into the awning roof and the steel tube frame is equipped with a 50% thicker zinc coating plus a T-Rex quick locking clamp system. Height specially adapted for the ERIBA Nova.
Weight: 20kg
Write an evaluation
Evaluations will be activated after verification.