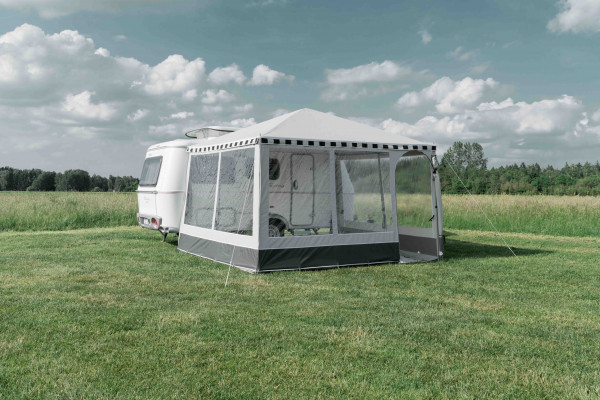 Canopy side sections (pair)
ERIBA
Recommended retail price including the applicable VAT. Prices may vary from country to country.
Simply send your noted products with the wishlist function to yourself, friends or your HYMER trading partner!

HYMER original accessories are not available ex factory, they are only available directly from your HYMER licensed dealer. Images shown may be subject to modifications.
Suitable for vehicles manufactured by ERIBA
Model range / model Feeling, Touring
Model years 2007, 2008, 2009, 2010, 2011, 2012, 2013, 2014, 2015, 2016, 2017, 2018, 2019, 2020, 2021, 2022
Canopy side sections (pair)
The side sections for the ERIBA Touring / Feeling model range can easily be mounted on the roof using zip fasteners.
An excellent side connection to the caravan is achieved via a special connection triangle. Furthermore, large windows ensure a wonderful feeling of space.
Dimension D 300cm
Material: ISA-Light fabric, light, washable, easy to tension, small packing size
Scope of delivery:
Supplied with an IXL fibreglass roof pole as standard
Supplied with an additional IXL support pole as standard


Write an evaluation
Evaluations will be activated after verification.