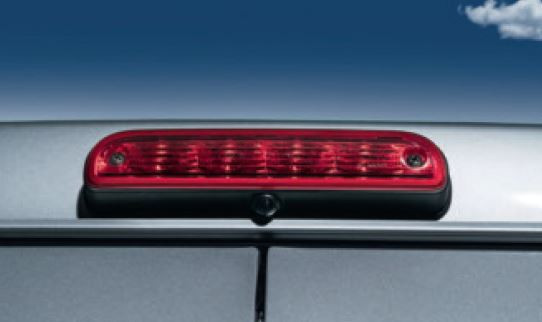 HYMERCAR / HYMER CAMPER VAN
Recommended retail price including the applicable VAT. Prices may vary from country to country.
Simply send your noted products with the wishlist function to yourself, friends or your HYMER trading partner!

HYMER original accessories are not available ex factory, they are only available directly from your HYMER licensed dealer. Images shown may be subject to modifications.
Suitable for vehicles manufactured by HYMERCAR / HYMER CAMPER VAN
Model range / model Ayers Rock, Free, Grand Canyon, Sierra Nevada, Sydney, Yellowstone, Yosemite
Model years 2018, 2019, 2020, 2021, 2022
Reversing camera single
The HYMERCAR reversing camera is integrated into the 3rd brake light and is optimally adapted to the factory installed Zenec navigation system.

The main features are:
- Compact, high-definition camera
- Detailed image resolution with high contrast also in the twilight
- Mechanically adjustable camera angle
- Housing made of plastic injection moulding with stainless steel fixing bolts
Camera system: 1/4" / 6,4 mm Aptina ASC340AT CMOS Sensor,
Viewing angle: 150° (D), X 130° (H) x 85° (V)
White balance: automatic
Power supply: 6-24 V
Power consumption: 40mA (DC12 V) / ~480mW
Protection class: IP69K
Operating temperature: -30°C ~ +75°C, RH 95 % max.
Without brake lights and without pre-wiring !!
Write an evaluation
Evaluations will be activated after verification.