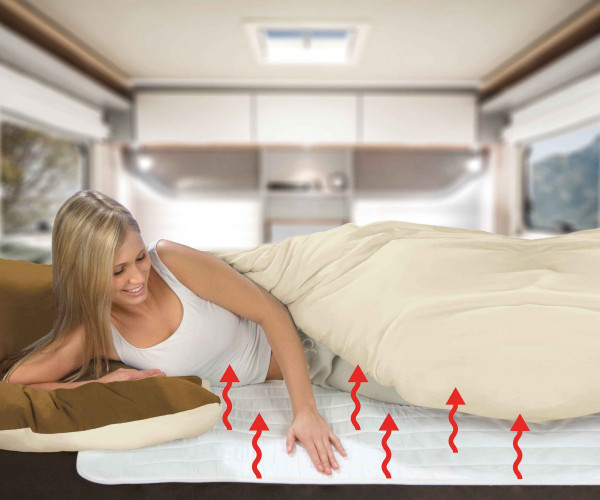 Winter offer: Electric blanket -10%
ERIBA

HYMER

HYMERCAR / HYMER CAMPER VAN
Recommended retail price including the applicable VAT. Prices may vary from country to country.
Simply send your noted products with the wishlist function to yourself, friends or your HYMER trading partner!

HYMER original accessories are not available ex factory, they are only available directly from your HYMER licensed dealer. Images shown may be subject to modifications.
Suitable for vehicles manufactured by ERIBA, HYMER, HYMERCAR / HYMER CAMPER VAN
Note Please read the FAQs by clicking on the vehicle data sheet
Model range / model Suitable for all ERIBA models , Suitable for all HYMERCAR models, Suitable for all HYMER models
Model years Suitable for all model years
Type Wärmeunterbett 12Volt
Winter offer: Electric blanket -10%
The winter offers are valid from 01 December 2021 - 28 February 2022.
KEEPING YOU COSY AND WARM WHEN ON THE ROAD
The HYMER electric blanket ensures that your bed is perfectly toasty and warm, enabling you to get a relaxing and sound night's sleep.
Thanks to GS-tested quality and the automatic switch-off function after 180 minutes, you can sleep the whole night through without a worry in the world. The electric blanket with 4 temperature settings is the perfect size to keep one person warm. One particular highlight is that you can conveniently use the electric blanket when you are on the road, as it only needs to be plugged into a 12-volt socket. Thanks to the HYMER electric blanket, you can wake up feeling refreshed and enjoy a relaxed start to your day, wherever you might be.
Item details:
Temperature settings: 4 settings
With automatic switch-off function after 180 minutes (sleep timer)
Material: Polyester
Colour: Natural white (unbleached)
Dimensions: 1,550 x 600 mm
Extra long, 3.50-metre connection cable
Power consumption: 4.4 A / 60 W
Power connection: 12 volts
GS-tested quality
Care instructions: Washable at 30°
Detachable controller with HYMER logo
Weight: 2 kg
Write an evaluation
Evaluations will be activated after verification.