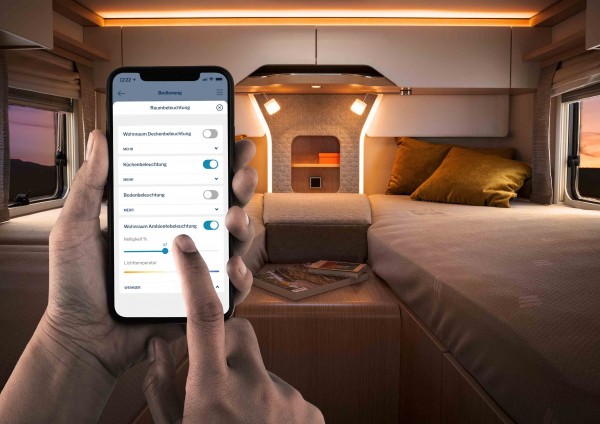 Connect app retrofit kit for B-Class MasterLine 20/21
HYMER
Recommended retail price including the applicable VAT. Prices may vary from country to country.
Simply send your noted products with the wishlist function to yourself, friends or your HYMER trading partner!

HYMER original accessories are not available ex factory, they are only available directly from your HYMER licensed dealer. Images shown may be subject to modifications.
Suitable for vehicles manufactured by HYMER
Model years 2020, 2021, 2022
Model range / model B ML-I, B ML-T
Connect app retrofit kit for B-Class MasterLine 20/21
Prepare your HYMER B-Class MasterLine for the future with HYMER Connect!
• HYMER Connect is a unique, digital ecosystem that turns your HYMER into a smart motorhome. It combines access to vehicle information with the control of living area functions – via the convenient and intuitive app (for iOS and Android)
• Many of the features in the living area (including lighting, heating, air conditioning, satellite system, solar installation) can be controlled with ease using the app
• The HYMER Connect app features preinstalled settings that can also be customised. This means that you can create the perfect atmosphere to suit your mood at the touch of a button. Be it when you get home after a day exploring the outdoors, or if you just want a particular kind of lighting in the morning or evening
• Standard information can also be easily viewed (e.g water tank level or battery status)
• The app connects to the vehicle via Bluetooth when within close range, and via the mobile phone network when further away (Service included for first 2 years, after which a subscription fee is charged)
• Remotely control or activate your heating or air conditioning
• Service currently available in 30 European countries
Write an evaluation
Evaluations will be activated after verification.