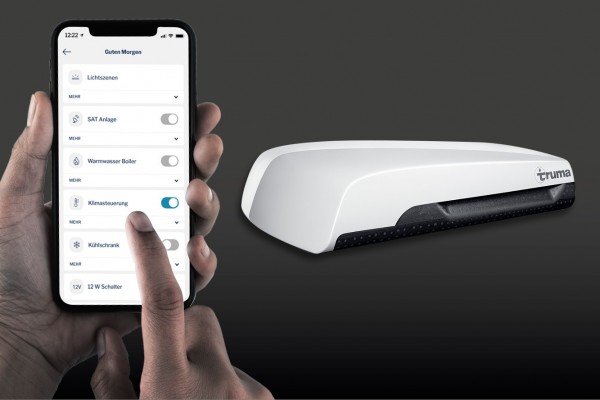 Retrofit kit, Aventa comfort air conditioning B-ML (HCA-enabled)
HYMER
Simply send your noted products with the wishlist function to yourself, friends or your HYMER trading partner!

HYMER original accessories are not available ex factory, they are only available directly from your HYMER licensed dealer. Images shown may be subject to modifications.
| Brand | Series/Model | Model Years |
| --- | --- | --- |
| HYMER | B ML-I | 2020, 2021, 2022, 2023 |
| HYMER | B ML-T | 2020, 2021, 2022, 2023 |
Retrofit kit, Aventa comfort air conditioning B-ML (HCA-enabled)
Retrofit kit: Aventa comfort 2400 air conditioning for HYMER Connect app (B-Class MasterLine)
Package includes:
Truma Aventa comfort 2400 air conditioning unit
TIN cable, 9 metres for connection of heating control panel
The Aventa comfort boasts a powerful and comfortable air conditioning system that efficiently cools and dehumidifies the interior on hot days. Thanks to the integrated heat pump, it can also be used as an energy-saving heat source. With its exceptional cooling capacity, the Aventa eco can quickly and effortlessly bring your vehicle to your ideal temperature. It consumes so little power in the process that it can even be used on campsites with poor fuse protection. For those who want maximum bang for their buck.
With 2,400 W of cooling capacity, the Aventa comfort ensures a chilled atmosphere in next to no time. Aventa eco with ultra-low power consumption. Honeycombed air filtration system cleans the interior air. Extra light for more payload. Quiet cooling thanks to sleep function. Air diffusers come in two different colours. Most slimline air diffuser on the market. Dimmable LED lighting. Infrared remote control with time and timer. Can be controlled using Truma CP plus – iNet ready. Two individually adjustable air outlets at both front and back.

• Power consumption (cooling): 4.2 A
• Power consumption (heating): 3.7 A
• Fan speeds: 3 plus sleep function, 2 when in heating mode
• Remote control: Yes
• Width: 66 cm
• Height: 24.8 cm
• Depth: 100.8 cm
• Cooling power (in W): 2,400 W
• Heating power: 1,700 W
• Net weight without packaging: 33 kg